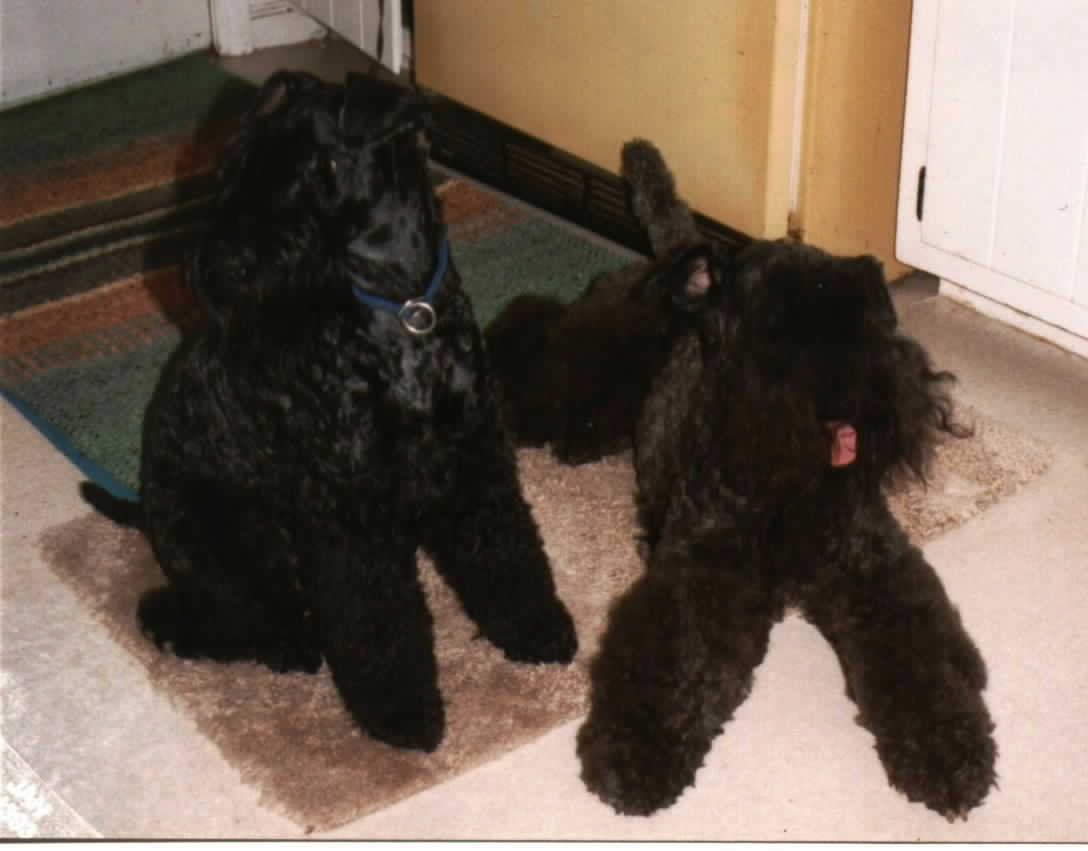 You will find the Breed Description of the Kerry Blue Terrier in the AKC "The Complete Dog Book", or many different web sites including the Kerry Blue Terrier web site. I will be mainly talking about is their temperament, a little on health and training.

The Kerry Blue Terrier was used in Ireland for a farm dog; herding, ratting and retrieving on land and in the water. The Kerry can be all terrier! So Obedience Training and
socializing are a must! Kerries are wonderful, loyal, sensitive and loving companions. And are very easy to train.

My own Kerries have shown me what great ratters and hunters they are. They have killed mice, rats and squirrels, from puppyhood through their adult lives. Some owners here in the U.S. are even doing herding trials with their Kerries. Kerries are also proving to be quite good in Agility, which is fun for both you and the dog.

Kerries are great with people, but can be quite dog aggressive. This is why Obedience Training and socializing is so very important! The more you learn from the people who breed them, and the owners that live with them, the better off you are. Proper training, care and exercising
will ensure that your Kerry will behave properly in any situation.

Kerries love to go with you everywhere. They will follow you around the house and ride in the car. The love camping, boating, hiking, snow shoeing, cross country skiing, (if the snow is too deep they will try walking on the back of your snow shoes or your skiis!), walking or jogging.

Before getting your new puppy, go visit other Kerry owners and breeders and go to dog shows. Get to know the breed and make sure it is the dog for you. Kerries are not a dog for everyone, mainly because of coat care. If you are not willing to brush your Kerry weekly, and have him/her groomed every 6 to 8 weeks, don't get a Kerry!


Kerries are, basically, a very hardy healthy breed. Although the one of the things they are prone to is colitis. This is mostly a result of "Separation Anxiety". Separation Anxiety comes from dogs that are usually spoiled by their owners. This is an acquired temperament problem. These are dogs that get very nervous when in situations they are not used to, like going for a ride, to the vet, or if you stay at home most of the time and you leave the dog at home alone to run some errands, etc. Obedience, regular "working" of your Kerry, regular walks, good diet, and crate training will help to keep this problem away! Introduce your puppy to new people, places, things, and other dogs. Let him play with other dogs in the park. This is where all this obedience training and the many great training books will come in very handy!

Make sure that when looking for a puppy, that the breeder has his/her dogs' hips x-rayed.
This is very important to rule out Hip Dysplasia. There are Kerries out there that do have this disease. So be on the safe side, make sure the breeder's dogs are OFA certified. You can find out more about canine diseases written out in brief detail in the Kerry Blue Terrier Handbook. Go to my Links page and click on the Kerry Blue Terrier Club page, to find out more about getting this very usefull handbook about Kerry Blue Terriers.

The Kerry Blue Terriers' coat is not difficult to keep up. If you keep up with it. They don't shed and don't have a body odor. But their beards can get quite smelly! They get their beards in everything, so keeping the end of the beard cut short to the muzzle will help out with this greatly! If you don't want to cut the end of your dog's beard, then wash it once a week. Regular grooming is very important, as the hair that grows inside their ears can get quite long and thick and will hold in wax, and they can get ear infections quite easily if this ear hair isn't
pulled out on a regular basis.

Buy good books on training and care. There are a lot of good books out there, so read, read, read! Buy a crate that will be big enough for your Kerry when your dog is an adult. However, don't buy a crate big enough for a Great Dane! Buy a brush, comb, food, toys, bones, food and water dishes before bringing home your new puppy. This way you won't be scrambling around for them later!

Find a reputable dog trainer in your area. And find out about Obedience and/or Agility classes. Go and interview them and make sure they dont have anything against training a terrier. If they say anything negative about training a terrier, GO SOMEWHERE ELSE!

Your Kerry, with proper training, socialization, care and a good diet, will give you great pleasure, companionship, and live for many years to come.