"Dino's" Championship titles are: American, Spanish, Portuguese, Gilbralter, Cuban, Grand Cuban, Mexican and International.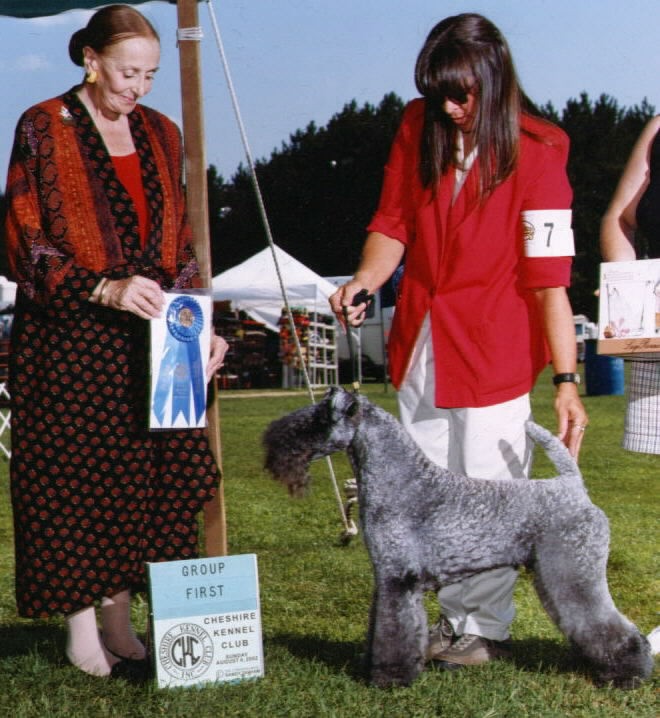 "Dino" has finished his American Championship with a Group 1! Pictured here with Judge Sandry Goose Allen. He is also the proud sire of 4 litters of puppies.
Flash!!!!! "Dino" wins the Breed at The Philidelphia Kerry Blue Terrier Club Specialty at Bucks County Kennel Club for his first major and first Specialty Best In Show!!!!!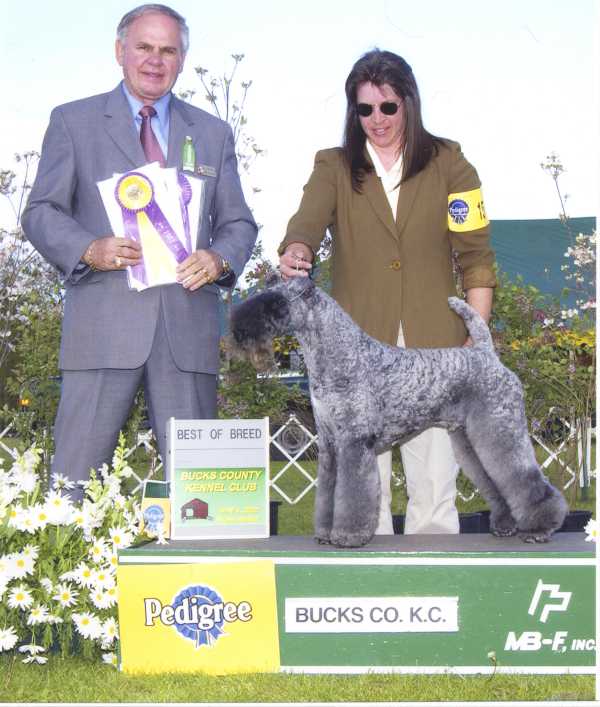 "Dino" was here for just 5 months to be shown and bred. He is a BIS and BISS winner in several countries. "Dino" was bred by Ron Ramsey. And is owned by Juan Carlos and Sergio Rodgriguez of Spain. He will be co-owned, groomed and handled by me while he is here in the U.S.A.
"Dino" has been bred to "Annie" (on "Our Kerries of Today, page). They had 5 pups June 14th. Dino has also been bred to Am. Can. Ch. Tontine's Keeping Secrets and Ch. Tontine's Fair Phoebe. They both had 6 pups each. These two litters were born in July.
Dino has also been bred to Ch. Wildside's You Gotta Be. She had 9 puppies! 5 dogs, 4 bitches.
Dino is now back home in Spain with his owners.
Pedigree for Torum's Tino OrsiniKerry Blue Terrier
Sire
Multi. Ch. Balboa El Cid
Sire
Eng. Ch. Arkama Debonair
Sire
Eng. Ch. Torum's Jo El Ray
Dam
Eng. Ch. Arkama Made To Measure
Dam
Balboa Sweetestabu
Sire
Eng. Ch. Shillelagh Fajara Of Nostaw
Dam
Balboa Surgarspoon
Dam
Torum's Chase The Ace
Sire
Eng. Ch. Aranshire Pioneer
Sire
Louisburg Dixie
Dam
Shillelagh Firy Carm
Dam
Ch. Dasumianco Quietner
Sire
Eng. Ch. Magnificent Milligan
Dam
Eng. Ch. Leicareiot Quietner
This pedigree page was built for free at SitStay.com